When it comes to successfully selling your home, we often hear one thing - Location, Location, Location! Yes, location is a big factor for home buyers – but it's not the only thing!
Beyond location, kitchens and bathrooms are key features that sell homes. An outdated or inefficient kitchen or bathroom can be a strong turnoff to home buyers, but selling your home shouldn't be the only reason to tackle those home remodel projects.
Quality Glass & Mirror would argue that you should not put off adding or updating a bathroom, in particular, in your home. You may have made New Year's resolutions that have already fallen by the wayside, but you can still make 2018 the year you do something for yourself!
According to Remodeling Magazine, a bathroom remodel can return as much as $.71/dollar for homeowners. Added value to your home is important, but there are many reasons why you shouldn't put off a bathroom remodel until you are ready to sell your home:
Adding a bathroom allows for increased privacy – and sometimes peace – for those living in your home
A remodel will eliminate broken cabinets, missing tiles, leaking faucets or persistent drain issues that could lead to bigger issues, such as mold
An updated bathroom can potentially create additional storage and a more efficient layout
Perhaps the best reason for a remodel is to update the look and feel and create a relaxing space with a custom shower or tub, soothing colors and warm lighting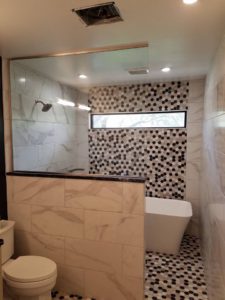 The Quality Glass & Mirror team can help you transform your bathroom into a space you and your family will enjoy for years.
Let us help you design and create showers doors or enclosures for almost any space. Visit our gallery of photos from our installers for inspiration!
Adding updated mirrors can make a small space appear larger
Glass shelving can create additional storage and an interesting focal piece
An added or remodeled bathroom should be enjoyed by YOU – not some potential home buyer years from now, so don't put it off any longer. The Quality Glass & Mirror team can help!