We recently partnered with Bratetic Construction on a basement remodel project. The homeowners needed more space and the unfinished concrete basement offered the perfect solution.
A full bathroom was included in the remodel plans. We built a custom shower enclosure using an Alumax #350 Deluxe Frameless Slider with an oil rubbed bronze finish. We provided a custom mirror and two tubular glass towel bars made of ¼" cast tempered glass.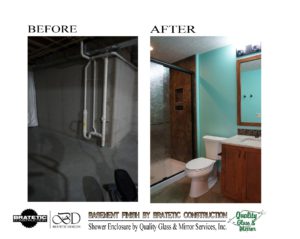 A full kitchen and bar were also part of the renovation. The homeowners wanted glass front cabinets for some of the upper cabinets. We used 1/8" Delta Clear glass which allows light to come without a clear view of the interior, which may not always be picture perfect!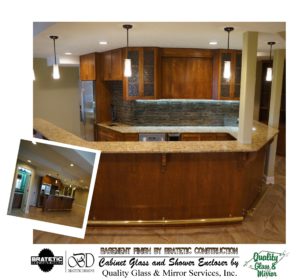 A upgrade to the workout area was part of the plans, and we added a ¼" clear mirror measuring 84" x 144" with polished edges, and includes an outlet cut. The result is the perfect exercise corner.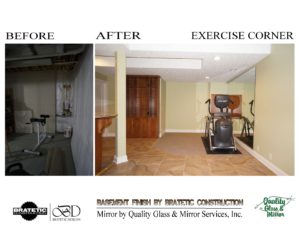 The glass features of this remodel are perfect examples of how glass can take your average remodel project to the next level without breaking the budget. This remodel shows how you can make a pleasant, versatile space out of what was an unfinished, underused space in the home.
We enjoyed working with Bratetic Construction on this basement remodel, and look forward to talking with you about adding glass features to your remodel or renovation project!