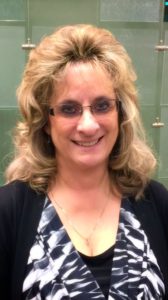 At Quality Glass and Mirror, we are committed to providing the highest quality glass products to our customers. Excellent customer service is what makes us unique, and is the top priority of our dedicated staff. Our team is what makes us work, and that starts from the moment you walk in the door.
Kathy LaGrone is one of the first people you meet when you visit our office. She is our Senior Retail CSR and Estimator, and serves as the Assistant to the President, Kevin Kuta. Kathy is responsible for providing a complete customer service experience for customers – everything from generating quotes, sales orders and invoices, and she manages product orders for commercial and residential projects.  
Kathy also serves as our Safety Director, leading a team of employees who make up the safety committee. The safety committee is responsible for developing, implementing and managing the company's safety program, policies and procedures. As you can see, Kathy is an important part of our team!
Kathy has been a part of the Quality Glass and Mirror team for more than ten years, and her unique experience gives our customers an advantage when choosing the "right" features for their projects. Kathy can help you choose anything from Heavy Glass shower enclosures to mirrors and cabinet glass. She is an expert when it comes to our extensive pattern glass selections, and she can help make your custom project spectacular!
Kathy's experience and expertise is invaluable, but it is her positive attitude and willingness to go the extra mile to help each one of our customers that we value the most. To say she is reliable is an understatement. Not only is she extremely knowledgeable in all aspects of Architectural Glass products, but she has an amazing sense of humor that makes her an absolute joy to be with!
Kathy is a football fan, especially the Denver Broncos, and our customers really enjoy and look forward to their conversations about the latest game with her! Kathy is a big part of what makes us work, and we are so grateful that she is part of our team! Call or email Kathy today so she can get you started on your glass project!