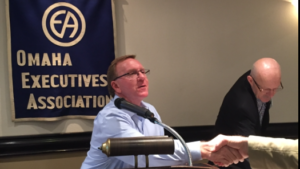 Kevin Kuta, President of Quality Glass & Mirror, spoke recently to members of Omaha Executives Association (OEA) about the history and services offered by Quality Glass & Mirror. Kevin founded the company in 1985 and has been a member of OEA since 1992 and OEA past president in 2004.
Kevin co-founded the company in 1985 and shared the history of growth of the company with the group. Quality Glass & Mirror now serves wholesale and residential customers in a six-state region.
Kevin provided a thorough overview of the services the company offers. Here are some highlights from Kevin's presentation:
Overview of the various machines in the shop, including the semi-automatic drilling machine, flat-edge polisher, CNC machine, digitizing table, Automated Insulated Glass Line, laminator and our brand new Forvet Francesca 1250
Explanation of the various types of glass, including tempered, insulated, spandrel, laminated, patterned and painted.
Photos and descriptions of various projects including shower enclosures, interior and exterior glass doors and hardware and privacy glass, as well as some custom projects including glass railings and shelves, glass enclosures and applications, and mirrors
Adding glass features in homes and offices are becoming increasingly popular. Quality Glass & Mirror has top-of-the-line equipment and machinery, and an experienced team of experts that are ready to create custom glass projects for your residential or commercial needs. We invite you to visit our showroom, or call us with questions!