Earth Day is Sunday, April 22, 2018. Earth Day began on April 22, 1970 to bring awareness to Americans about environmental issues. It is now observed by more than 50 billion people in 195 countries and is the world's largest environmental movement. Each year Earth Day brings heightened awareness to the importance of recycling and reducing the amount of materials that end up in landfills.
At Quality Glass & Mirror we are always looking for ways to be more efficient so we can reduce the amount of materials that end up in the landfill. Glass is ideal to recycle because the material has not been degraded by normal use.
Rocky, th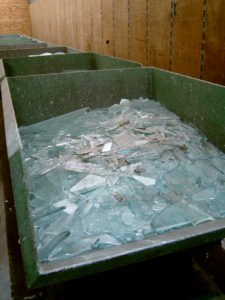 e Automatic Glass Cutting Operator, enters the dimensions and type of glass into the special software program which optimizes the cuts to reduce the amount of scraps, or DROP. The glass is then automatically loaded onto the breakout table.  Rocky and Jeremy (or Terry) both monitor the layout on the screen above the table so they know exactly what to save and what is scrap as the glass is automatically cut.  They then manually break out the glass – tossing out the drop into hoppers (bins). This process has reduced the amount of DROP at Quality Glass & Mirror, making us more efficient and reducing waste.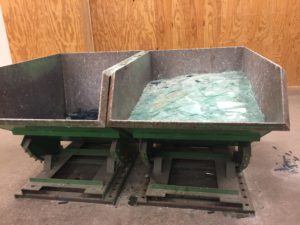 The DROP is crushed and ready to be melted and is now referred to as cullet. In addition to the DROP, any glass that has been cut wrong, is broken or imperfect, or the scrap from hand-cut custom pieces is also recycled in this way.
The cullet bins are collected periodically by our partner, Cardinal Glass Industries.  The cullet returns to the production line and is ready to be turned back into glass. Its amazing to think that the glass you see in your home of office may actually have been made from recycled glass!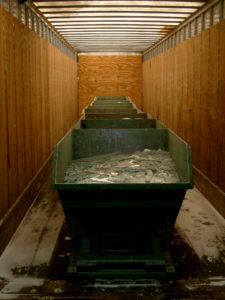 At Quality Glass & Mirror, we are proud to do our part to reduce the impact on the environment. You can learn more about what you can do, as well as information about Earth Day, here!