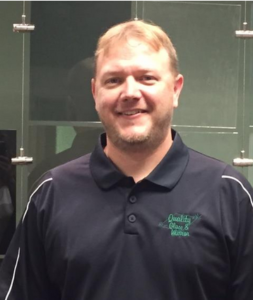 When we think about what makes Quality Glass & Mirror work, we immediately think about Jason Gruwell. Jason joined our team in 1998 and has filled many roles in the last two decades, ranging from retail production manager to his current role as Retail Sales Estimator & Facilitator.
Jason's extensive knowledge of the glass industry makes him an invaluable member of our team. Our customers benefit from his expertise every day. He has the skills to not only cut glass, but operate our automated fabrication machinery, read blue prints, measure projects and estimate customer projects.
Jason is a member of our Safety Committee, and he values being part of our team. "Jason is always willing to help a customer or a co-worker," said Kevin Kuta, president of Quality Glass & Mirror. "Our clients enjoy working with Jason because he takes the time to make sure every project meets their needs and is of the highest standards."
When he isn't hard at work, you will find Jason on the sidelines of a sporting event for one of his two daughters with his wife.
We are grateful every day for Jason's dedication and commitment to Quality Glass & Mirror, and we know we wouldn't be who we are without him!