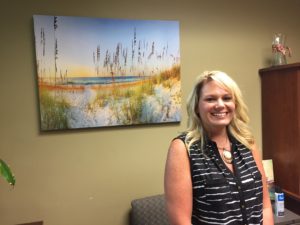 At Quality Glass & Mirror, customer satisfaction and quality work are our top priorities. Each member of our team is committed to creating a positive customer experience from start to finish, and Jodi Smith, Wholesale Team Leader and Project Manager, is a great example of that!
Jodi joined the Quality Glass & Mirror team as a CSR doing data entry in April 2008. Since that time, she has learned the ins and outs of the wholesale department and now oversees the administrative wholesale operation. She assists Jason, vice president, with estimating and inside sales, and plays a key role in project management.
"Jodi always takes what she is doing to the top level," said Jason. "She has built a team that is always looking to accommodate the customers with their needs, and she is always looking for ways to improve the customer experience."
When Jodi meets with a customer, she relies on her product knowledge and her expertise to find the best solution for their unique project. She works with customers to provide competitive pricing and estimating for all projects, regardless of the size and scope.
"Jodi is one of our key employees because she keeps everything running smoothly," said Jason. "She is well-respected and appreciated by our customers."
When she isn't working, Jodi stays busy with her two young children who are busy with sports and activities. She loves to travel and cruising to new locations – some of her favorite spots have been the Caribbean Islands including Jamaica, Cayman Islands, Nassau, Freeport, Half Moon Cay, Honduras, Belize, Ensenada, Grand Turk and Cozumel. You'll also find her rooting for the Kansas City Royals!
Jodi, thank you for all you do for Quality Glass & Mirror – you are an important part of What Makes Us Work!