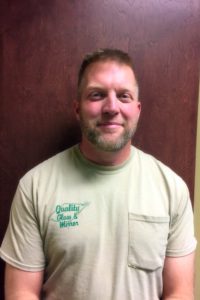 Custom-designed glass work is unique and beautiful. The design and production are important, but the installation is crucial to making a glass project perfect. That is where Colin Niewald comes in. He's a glass installer at Quality Glass & Mirror, and he's an important part of What Makes Us Work.
Colin joined the Quality Glass & Mirror team in 2015 after a 20-year career in landscaping. Since joining our team, he has become an integral part of our team that our customers have come to trust.
Colin is professional and always on time. He always takes the extra steps necessary to make sure the job is done just right. If you ask Colin, he'll tell you that honesty is always the best policy. Explaining the process to the customer, being upfront, courteous and professional helps customers feel at ease.
"Colin takes great pride in his workmanship and executes every job with the utmost professionalism," said Kevin Kuta, president of Quality Glass & Mirror. "He is the reason that so many of our customers love working with us because he takes the time to explain the process and makes sure the finished project fits their needs."
Colin enjoys hunting and spending time with his children. Colin enjoys staying busy, so when he isn't working you can find him building pergolas, decks and fire pits. We love seeing pictures from the job sites that Colin sends us. He's a dedicated member of the Quality Glass & Mirror team, and he really is an important part of What Makes Us Work!