At Quality Glass & Mirror, we are committed to providing quality service to our clients and creating a positive, fun work environment for our employees. We love it when we make a hire and instantly know we have found the right fit. That is exactly what happened when Anthony Myles joined our team!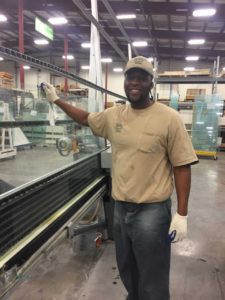 Anthony is one of Retail Fabricators, and he operates and maintains our Bottero Straight Edge polishing machine. Anthony joined the team in April of 2016 after being referred to us by our partner, Snelling Staffing Service. Anthony came to us with glass experience, and we knew almost right away that he was a good fit for the Quality Glass & Mirror team.
"Anthony has been an asset to the company since day one," said Kevin Kuta, president of Quality Glass & Mirror. "His positive attitude is contagious, his work ethic is second to none, and his attention to detail provides our customers with a perfect product on time, every time."
"I know I serve our clients best by giving 100% all the time, and delivering a product that is perfect every time," said Anthony. "Nothing less than the best is good enough, and I always double check my work!"
Anthony always come to work on time, ready to give his best. He is constantly moving, and we love that he always has a smile on his face!
"Quality Glass is fortunate to have Anthony on our team," said Kevin. Thank you for all you do Anthony – you are an important part of What Makes Us Work!