Quality Glass & Mirrors is dedicated to delivering the highest quality service and product to each of our customers. We are able to maintain these standards because of our dedicated team, including Terry Fisher.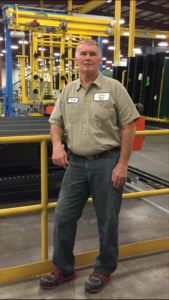 Terry, commonly known as "Fish" around the plant, will celebrate 25 years with Quality Glass & Mirrors in July. He is a Glass Cutter and he is extremely knowledgeable about each stage of glass cutting and the extensive variety of glass that we carry.
Terry starts his day on the automated cutting line, working at "breaking out" glass before moving on to the manually cutting glass. The manual process starts with cutting the glass or mirror to the specified size and shape, positioning the pattern and marking the cutting lines, using a cutting tool to scribe along the pattern, and finally breaking away the excess glass. Terry is an expert at this skilled process!
In the 25 years that Terry has been a part of the Quality Glass & Mirrors team, he has rarely missed a day. "If you were to look up the word 'reliable' in the dictionary, you would see a picture of Fish!", said Jason Hoover, co-owner. His dedication and hard work make him a valuable part of our team, and our customers reap the benefits on his expertise and skill.
In his spare time, Terry enjoys watching football and hunting. Congratulations on your upcoming anniversary Terry, and thanks for all you do for Quality Glass & Mirrors!