We recently introduced you to Colin Neiwald,  glass installer at Quality Glass & Mirror, in our What Makes Us Work blog. You could call Colin and Harley, another installer, the "finishers" of Quality Glass & Mirror. The installers help take your design from just an idea to reality. Our fabricators design, cut and prepare the custom glass, and the installers finish by ensuring the fit and installation are perfect.
Of course we love seeing a completed job, but we really enjoy the photos of a project after the installers have finished adding the glass to a home, but before the finish carpenters, tilers or contractors complete a job. These pictures often highlight the preciseness and perfection that goes into glass installation, and they show just how talented our installers are!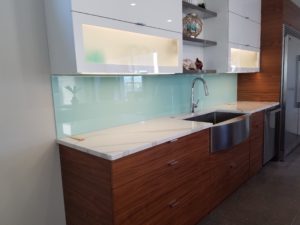 We have created a gallery of photos from our installers on our website so we can share their talents with you! We will share a variety of projects from custom glass showers to backsplashes, shelving and mirrors. You will see the pride and skills of our installers. Occasionally, you may even catch the reflection of an installer in a mirror!
We have also created a Pinterest page to showcase the variety of custom glass projects we can create for you. We invite you to follow us, and get your inspiration from us. If you don't see what you are looking for, just ask us! Together we can design and create a custom glass project that you're looking for, and our talented installers will make sure it perfectly meets your needs!