A funny thing about glass is that is it can be easily overlooked. By it's very nature it is difficult to actually see. When carefully incorporated into the design of a building, you can almost forget that it is there! But, don't underestimate the value glass can bring to the design of a project.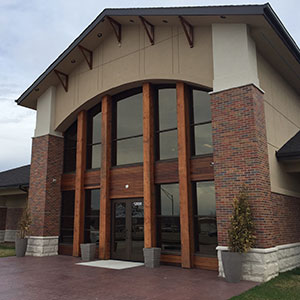 This is especially true in the Omaha Track building, located at 129th & I St. We completed work on this redesign project in Fall of 2015 after working with contractors and builders off and on over a period of 6 months. Glass was carefully and purposefully incorporated into the overall design and aesthetic of the building, and we love the finished project!
From the exterior it is easy to see that a vast amount of windows were installed. The result is a tremendous amount of natural light that floods the interior of the building. What truly makes the building unique is the amount of glass on the interior.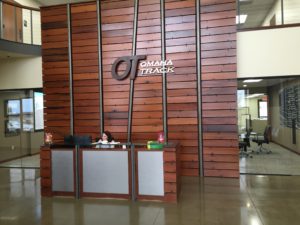 Visitors to the building will immediately notice the openness upon entering. Several glass walls were installed in conference rooms and hallways. Glass half walls were installed wherever feasibly, allowing for separation without blocking light, and an openness of communication, brainstorming and idea building.
The catalyst for the design of the building, both the interior and exterior, was based on their products and industry. Omaha Track has been providing quality service to the railroad industry since 1983 when they started supplying railroad ties to landscapers in the Omaha area. They have grown to the leading railroad material supply company and services provider in North America. They had a definite vision for the redesign of the building and we were more than happy to execute their ideas!
So while it can be easy to overlook glass, in this building it creates a powerful design feature. We hope you will take a look and notice the true beauty and functionality of glass!