At Quality Glass & Mirror we believe in providing quality, trustworthy service to every client. We have been fortunate to develop strong relationships with many builders, contractors and companies in the area who share the same commitment to quality. We would like to highlight some of our valued partners and show our appreciation for the trusted partnerships we have developed.

For the last ten years, we have been fortunate to work with Steve Rease and his team at Prairie Construction on many projects. Quality Glass & Mirrors and Prairie Construction share the same commitment to excellent service that motivates Steve and his team. Prairie Construction is a general contractor, specializing in commercial projects in the Omaha area.
We have partnered with Steve on many specialty projects over the years including office buildings, car dealerships and schools. We recently partnered with Prairie Construction on a remodel project at the headquarters for Centene, a Fortune 500 company located in the North Park Business in Omaha. We installed all new bathroom mirrors, entrydoors, interior windows and glass light fixtures.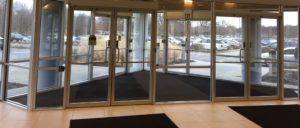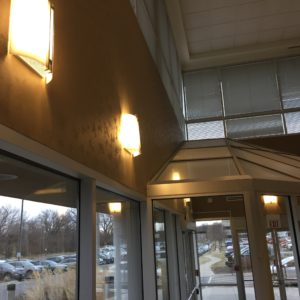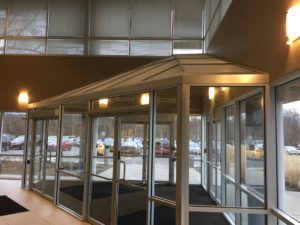 We worked with Steve and the Prairie Construction team to complete a glass feature in the entryway and lobby at the Exclusively Eye Center. Steve brought us in at the design stage to create a glass feature that met the owner's specific designs and pattern requests. We used Gluechip glass laminated to grey glass on a large transom window in the lobby that transfers light into the exam room beyond. The glass gives the appearance of teardrops, matching the owners specific vision.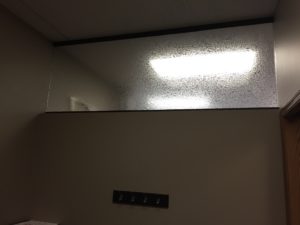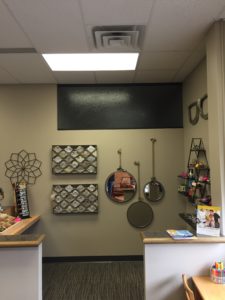 "I rely on the expertise of Kevin and the designers at Quality Glass & Mirror to deliver a product that achieves the vision of my clients", said Steve Rease, president of Prairie Construction. "Kevin presented designs that fit the client's specifications, installed the glass features and the result was a beautifully completed project and a happy client."
Steve appreciates the professionalism that is a priority of the Quality Glass & Mirrors team, as well as our ability to work with clients on a variety of projects.
"It means a lot that when I work with Quality Glass, I work with the president of the company directly. Kevin is hands-on and the lines of communication are always open" Steve said. "I admire how much the entire team values teamwork and they all work hard to deliver a quality product in an efficient manner at a competitive price."
"The name Quality Glass speaks for itself – that is why we have partnered with them on specialty projects in the past, and will continue to do so in the future."
We value our partnership with Steve and his team, and the unique projects that challenge our creativity. We look forward to working on future projects with Prairie Construction!