We love it when a glass feature that we have designed and created goes almost unnoticed because it's function is to showcase something beautiful – a unique feature of the home, or the outdoors. This is the case with the interior glass door we built and installed in the home of Mike and Connie Roseland of Omaha.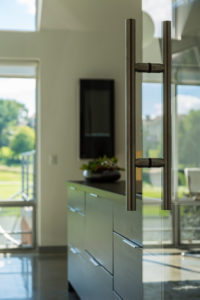 The Roselands embarked on a remodel of their home that sits on a golf course. Unobstructed views were a priority for the design of the remodel, and they didn't stop with just exterior windows. They wanted a door to separate the kitchen from the living space, but they weren't willing to lose the open feel of the main floor.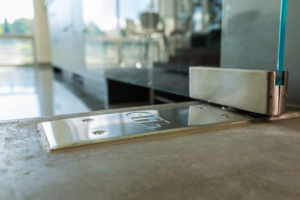 They settled on glass, but they were unable to find a standard door to fit the extra large doorway, so they called on Quality Glass to create a custom door. The result is this beautiful frameless door made entirely of glass. We anchored the door to the concrete flooring using a minimal amount of metal hardware to maintain the seamless look of the door. A sleek metal handles matches the modern look of the home.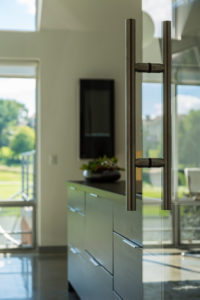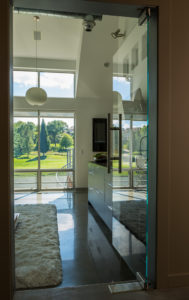 The door perfectly achieved the goal of maintaining an open feel in the home. From the front of the house you can almost feel like you are on the golf course, and Mike and Connie love the natural light that fills the home.
Give us a call if you would like to add a unique glass feature to your home or office!