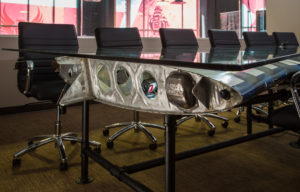 Most of our projects involve glass features that are practical and functional. We are experts in windows and glass walls and shower enclosures, but we love opportunities that allow us to show our creative side, creating art while showcasing the versatility of glass. That is exactly what we did with this glass top table for 88 Tactical.
88 Tactical is an elite training organization providing tactical curriculum, instruction and legal certification to civilians, law enforcement and military personnel, and just completed construction of brand new training facility in Omaha. They commissioned local artist Dave Morrison to create unique, functional pieces that showcase their mission and purpose.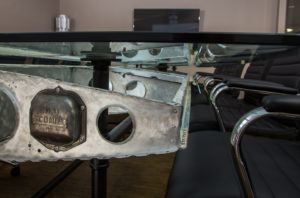 Most notably among those works of art is the large table in their conference room. Morrison envisioned a non-conventional base for the table, and settled on the wing of a P51 Mustang, with obvious connections to nature of their work. He knew the top of the table needed to be glass for this unique table that comfortably seats 14, and we jumped at the opportunity to create this piece of art with him.
The result is a one-of-a-kind piece of art that is as functional as it is beautiful. It is a statement piece and an unavoidable topic of conversation.
The pictures speak for themselves. If you are looking for a signature piece to make a statement in your home or office – call us! Our creative glass experts are eager to create a one-of-a-kind piece of art for you!